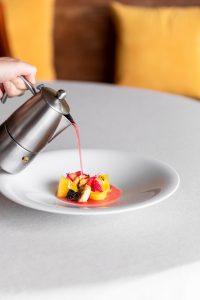 Corrado Fasolato, chef at Spinechile restaurant
Corrado Fasolato, borned in Schio and when  he was very young leaved Italy to explore foreign regions, to learn and express his charisma.
Colorful, alchemist and creative, will soon reach the top of Italian cuisine.
At the end of the 90s, in Val Badia he took the first Michelin star followed by the Three forks of Gambero Rosso, Veronelli's Sole and 17.5 points of the De l'Espresso guide, reaching 13th place in Italy in the average ranking of national guides.
In 2004 he went to Venice and worked for a 4-star hotel. Later, after 9 months he won his first Michelin star and, after 5 years, the second too. This is a record: it had never happened that a hotel restaurant in Venice received such a high recognition in a short while.
In the same year, another record, come with the assignment of the highest recognition for the Gambero Rosso guide, namely the Three Forks.
Venice has never had and still does not have such a high recognition.
In all these years it has been reported by the best gastronomic and non-food magazines, reaching important goals and creating dishes that will identify it over the years such as the extract made in Moka to which a patent is linked, the cuttlefish fettuccine alla carbonara, the venison cooked in steam of forest herbs and the sensations of rum and tobacco, dishes that can still be found in the Classics menu today.
The Hall...the Cellar...the Waters.
Paola Bagotto, who has been sharing work and life with Corrado for as long as she can remember, welcomes the guest and takes them through the Spinechile experience.
With a thousand wine labels from around the world, names that are emblazoned but also small and unknown, Paola knows how to recommend the right pairing to enhance the dish and complete the "flavor journey." The Map of National, European, Over Continent Waters is for those with a curiosity to understand and compare very different organoleptic characteristics.